2014 BMW 650i
BMW is truly the Ultimate Driving Machine! This 2014 BMW 650 convertible is truly a beautiful piece of art. She came in due to what appeared to be a small fender bender, but ended up being much more. Never assume your damaged vehicle is not that bad. What lies beneath can put you life at risk.
Once this BMW 650i was dismantled and a full diagnosis done, there was many missed items by the insurance appraiser.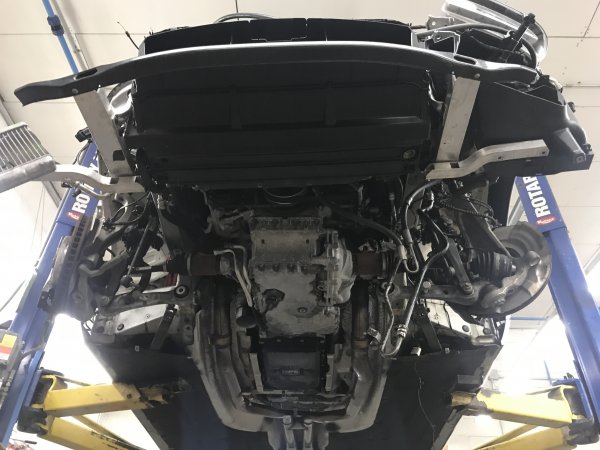 Well we have the entire engine/suspension cradle or sub-frame out of the BMW and are comparing the new and old part to confirm it is correct. Even though you may order a part by part number, there is still a possibility the part was picked or packaged wrong. This is a very tedious task that take up a lot of time, especially on a repair with 60+ parts.
Now that we have the engine cradle and suspension installed back into the vehicle, we can move on into the rest of the build. This will consist installation of the miscellaneous supports and brackets that require replacement, along with the installation of headlight and painted parts that are out of the paint booth waiting to be installed.
Here is where the magic is made. Paint work is being done while the mechanic is replacing all suspension components. Tomorrow the parts will be removed, inspected for dirt and dust nibs, sanded to remove imperfection and to match factory texture, then the body panels can be reassembled back on the vehicle.
This BMW did not have any damage to the door or hood, however when you paint a fender you must do what is called a blend. Blending is done so the new panel will match the adjacent panel. Being that the mechanic was working on this car while the painter was painting, we removed the door and hood so the painter could complete his job and not delay the delivery date. Believe it or not if we had waited until the mechanic was done before painting, the vehicle would have been delayed for an additional 4 days due to the amount of work required to the suspension and mechanical work performed. Throw a weekend in the mix and we are 6 days ahead of schedule. I am sure the client will be very happy to hear that.